Send Emails Directly into Trac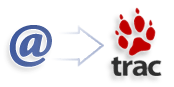 Today, we have launched the ability to send emails directly into your Trac projects, automatically creating a new ticket for every email. Now, both your users and your development team can optionally contribute to the project without even having to login to the site!
You can create any number of email addresses within your account, each routing to a single project. Each address can specify ticket field values for every newly created ticket (i.e. owner, milestone, component, version, etc.). Email addresses can also be configured to be public (accepting email from anyone) or they can be limited to only accept mail from those users explicitly involved in the project.
All emails are created with the following format: address@subdomain.repositoryhosting.com.
Your users can certainly email directly to an address in this format. However, in many cases, it may be more appropriate to forward email to this address. For instance, let's say you wanted to create an email bugs@myproduct.com. You could create this email using the mail server for your and then automatically forward all email sent to this address on to address@subdomain.repositoryhosting.com.
To configure email addresses for your account, simply visit the "Account Settings" page and click the "Incoming Emails" menu item.
Comments