Changeset Notifications: Twitter, Campfire, Basecamp and more...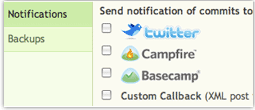 Changeset notifications via email are definitely handy, but we have found that there are often scenarios when having notification of commits can be useful in other contexts as well. It is now easy to receive notification of commits to your projects to a number of 3rd party services, including Twitter, Campfire and Basecamp.
In addition to these services, you can also enter a custom URL where Repository Hosting will POST essential information about the commit. This is especially helpful for those of you who are running continuous integration servers or other utilities that must be run after every commit.
To setup these services, simply visit your Project Settings page and enter the necessary credentials for any and all of the notifications you would like to receive.
Comments