New Dashboard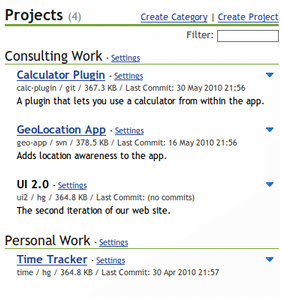 One of the top reasons why our customers choose Repository Hosting is that we allow them to have as many projects and users in their account as they'd like, at no additional charge. We just don't believe in charging extra based on artificial metrics such as the number of projects. As a result, 1/6 of our customers have 10 or more projects in their account, and some have more than 50. However, until today, managing large numbers of projects and users could get a bit cumbersome.
Today we have rolled out a brand new version of the account dashboard, an updated permissions interface, and various enhancements throughout our service. The purpose of these changes is to make managing large numbers of projects and users easy and efficient. We have streamlined many of the commonly performed actions and added additional data to the dashboard. The biggest change is the ability to group projects into categories and users into groups. You can then set permissions on a category and they will be inherited by all the projects within that category. The same thing is true for groups and users.
Changes and Features
Dashboard
The list of projects or users may be instantly filtered by typing into the filter box.
Projects and users are now created right from the Dashboard. The "Create and Add Another" button may be used to quickly create multiple users.
Additional information, such as repository type, disk usage, and last commit date is listed under each project in order to better identify and compare them.
Projects and users are now visually grouped.
Projects may now be archived. Archived projects will still take up space, but they will become inaccessible and not be listed on the dashboard.
Similarly, users may be disabled, in which case they cannot log in.
Projects may now be forked. This creates a new project that has a copy of the original repository.
Similarly, projects may now be copied, which makes a complete copy of the repository, shared drive, Trac data, settings, and permissions. This is useful when using one project as a template for new projects.
Permissions
The permission page has been moved to a tab on the Project Settings page.
Permissions may now be set from the project, category, user, or group settings pages.
Trac permissions, such as WIKI_READ, that have been assigned to users are now listed on the permissions page.
General
The width of the pages has been increased to match the Trac layout.
Trac may be completely turned off for a project.
Incoming email can now be managed from the Project Settings page, instead of the Account Settings page.
Check out the new changes and let us know what you think. Now go create some more projects!
Comments