Pay with Moneybookers/Skrill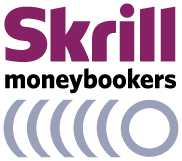 I'm happy to announce that we now support a new payment method, Moneybookers (which is currently being rebranded as Skrill). This new integration allows us to offer more payment options and to better support our customers around the world. We have heard from a number of you that you are unable to use Paypal in your area, but can use Moneybookers. Currently, it looks like Moneybookers is supported in 205 countries compared to Paypal, which supports around 201 countries, and their lists of countries differ somewhat.
We plan to continue adding new payment options in the future. If you have a preferred payment system that we don't yet support, please leave a comment below and let us know.
Prepaying for your Account
We have also just added support for making one-time payments to prepay for your account for any period of time. This can be useful if you'd like to pay at a different interval, such as annually or quarterly, or if you are having trouble getting the automatic monthly payments to work. We have found that a few of our customers have been restricted by their financial institutions from setting up recurring payments, and this should allow them to work around this. This prepayment feature is now available on the Billing tab of the Account Settings page.
Comments